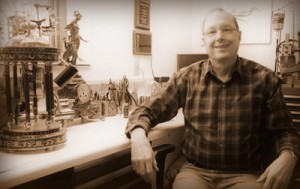 Edina Clock Repair is locally owned and operated by Richard Zielike, serving the Twin Cities metro region. Richard is a past president of both the Minnesota Clockmakers Guild and the Minnesota Watchmakers and Clockmakers Association. He graduated with a degree in history and literature, was working towards a masters in European history and then he got sidetracked with clock repair. He earned a diploma in watchmaking from St Paul College and has published several articles on clock repair. Since June 2012, Richard has been the consultant for the MN Department of Natural Resources and Hennepin County for the repair of Fort Snelling's Seth Thomas #16 tower clock. He is currently working on the Minnesota State Capitol clocks in the House, Senate and Supreme Court.
Edina Clock Repair is an authorized service center for Howard Miller, Sligh, Ridgeway, and Ethan Allen Clocks.
Contact Us
Note: Since the start of the pandemic, our call volume and workload has increased dramatically. We are available to schedule grandfather clock house calls 1-2 weeks out; visits take take 1-2 hours. Mechanical clocks left for repair may take 9-12 months to return; battery-operated clocks may take 2-3 weeks.
Phone: 952-983-0681
In Person: 5720 Lois Lane, Edina, MN 55439 (get directions)
Monday-Friday mornings are the best time to catch Richard in his shop, but always give a call first so we can make sure not to miss you.
Online: Email [email protected], or fill out the online contact form.